International Children's Trust Needs Urgent Support

International Children's Trust exists to drive change for the most vulnerable and marginalised children and young people living in extreme poverty. We operate worldwide and the projects we partner are based within local communities. From the streets of Ouagadougou to neighbourhoods affected by gang violence in Guayaquil, ICT protects children from violence and exploitation; and gives them access to education and vocational training. 

Thanks to supporters like you, we have been busy trying and testing new programmes, collecting stories to demonstrate change, prioritising evidence of impact and ensuring that your money is spent responsibly. This was achieved with a small but high-performing team, who are working hard to further the mission of ICT.

At a time when income is declining for many charities, we have had to deal with a growing demand for our help, as well as an increase in costs globally. As a charitable organisation, we need urgent support and have made some suggestions below as to how you could help us.

Why not do your own fundraising? A number of Rotary and Inner Wheel Clubs, church groups and a secondary school have hosted events such as coffee mornings, afternoon teas, bake sales and book sales in order to raise funds for ICT.

Set up a fundraising page online via www.justgiving.com/ict

Any money donated through JustGiving is paid directly to ICT.

Donate directly to the International Children's Trust (ICT)

Via our Website: 'Give Now'

Use our QR Code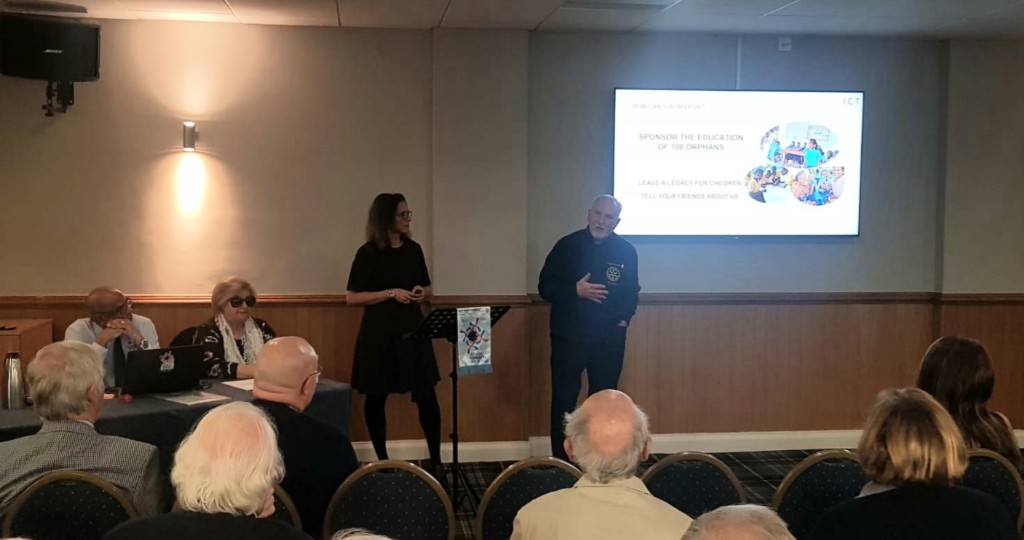 First Prize Award 2019

Thank you to the International Committee at the Heart of England Rotary District for the invitation and warm welcome. We felt privileged to be able to give a presentation about how together with the Chiedza Child Care Centre in Zimbabwe, we helped 1,800 families to build a sustainable business so that parents could afford to send their children to school. The project, which helped to send 2,645 children back to school, received an A+ score from UKAid and the First Prize Award from the Heart of England Rotary District International Award.

Well done team Chiedza for all the hard work and effort put into this work!


ICT creates real and lasting change in a child's life by tackling the root causes of child poverty. We focus on vulnerable children living in poverty, facing abuse, violence and discrimination. We tackle the physical, educational and emotional barriers to a child's development and create strong family and community support structures. We want a world where no child has to live or work on the streets.
How We Work
We develop projects with local partners that tackle the root causes of child poverty in their community. While local partners understand the community needs, they often lack the capacity to provide their innovative solutions. We strengthen the capacity of our partners by pursuing funding opportunities and ensuring they are able to effectively and efficiently use those funds. We have built a network of local partners around the world who are able to share their experience and learn from each other and their solutions. We come together with a vision of a better world for our children.
We believe every child should have a safe and secure place to call home
We have been working with children around the world since 1967
We develop long-term local partnerships building trust and long-lasting solutions
Why Support ICT?
ICT works with grassroots and community-led organisations in Africa, Asia and Latin America. We receive more requests from overseas organisations than we can support. These organisations apply for a partnership with us so that they can access funding and programme expertise, develop new skills, make strategic connections and give international visibility to their causes.
ICT ensures that those living in vulnerable situations have access to the most basic needs such as health, sanitation, education and to child protection systems. We encounter many challenges when supporting the world's most disadvantaged children. Nevertheless, the data and stories we collect help us to understand these challenges and reduce their impact, to share and disseminate learning and to bring positive change.
By the end of May, twenty four children (eleven boys and thirteen girls) were studying at Saplings Preschool. The new and continuing pupils have been engaged in a variety of activities including learning the alphabet [...]
Kunashe and Tinotenda were five years and three years old when their mother passed away. Their father later remarried but life was difficult and the boys struggled to get educational support. When they were in [...]
Boys Town is preparing for the new academic year 2023-24 in June. The admission process has begun and we expect approximately forty five new boys this year. Out of the seventy one students who sat [...]