Every child will have a role model – someone who they respect, listen to, and copy their actions. For many children this will be a friend or a family member who will care and nurture them. For children living on the street, they will often look to the alternative family they have created on the street and to the other children who have lived there longer. Yet, these role models are not necessarily a positive influence on a young child.
Street youth provide protection for the other children, but do so while ruling them, exploiting them and coaching them in the ways of surviving the street. They have never been able to reintegrate into their own families or find a new life away from the streets, so they often prevent younger children from doing the same.
On the streets of Ouagadougou in Burkina Faso a small group of these street youth are being encouraged to become better role models. Now over 18 years old, seven are working with our partners Keoogo to become peer educators.
Why are they important?
Peer educators are the eyes and ears of the team. They have the experience and knowledge of the street that helps to identify and master specific problems the children have. These peer educators provide the link between the team and the children particularly when they are often quiet around adults, or suspicious of their intentions. They are living the same life as the street child and sharing the realities of everyday life.
But their development as peer educators also strengthens the ability of Keoogo to carry out their work with street children. Rather than seeing the street youth as the 'enemy', they are part of the solution.  They are valuable resources in the process of accompanying street children, who are using their own (often negative) experiences and turning them into something positive for the future. They can inspire and be a true role model to the children on the streets.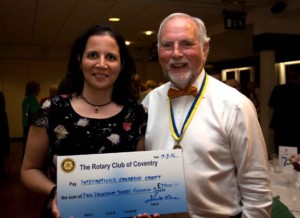 With thanks to the Rotary Club of Coventry
The work of the Peer Educator Programme is being made possible by the generous support of the Rotary Club of Coventry. They recently presented a cheque for £2,300 to the International Children's Trust from fundraising held throughout the last year. With incoming president Kevin Vaughan also selecting the International Children's Trust as one of his Presidential charities for 2016/2017, we look forward to our continued relationship over the next year.
Our treasurer Wahiba Kiared, is pictured receiving the cheque from outgoing President Kenneth Holmes following a short presentation on the transformational change that the Rotary will be supporting.