The Beoogo Tienbo Village for young mothers has continued to build on the number of vocational training activities available to them. Since July, two important new courses have been introduced. These are training in market gardening using an agro-ecological approach and training in baking skills.
After a geophysical study, Keoogo started to prepare the land for planting. In addition, an analysis of the food needs of the young mothers and their children was carried out. This assessment allowed us to collect data around the varieties of vegetables consumed by the families over a two-week period. This will then be used to select the vegetables to be grown in the market garden.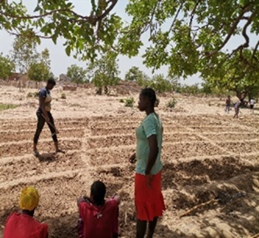 The agro-ecological training took place in several phases. Phase 1 involved meetings between the agro-ecological consultant and the young mothers to discuss the ecosystem. Phase 2 involved the girls setting up a site for the agro-ecology garden under the guidance of a trainer and a number of the women teachers who have experience in market gardening. Other phases will be carried out from December 2021 onwards.
The training in baking involved 36 young mothers learning to prepare several types of pastries including Christmas logs, milk cake, shortbread biscuits, pancakes and churros.
This created a new dynamic within the groups and helped the young mothers to get to know each other better and to strengthen their trust in each other. It has also encouraged them to develop their self-esteem, self-confidence and sense of purpose. For this course, the acquisition of baking kits will enable the girls to continue baking as an income-generating activity when they have reintegrated back into their communities. On completing the course, a young mother shared her feedback with us "This course has been a chance for me to learn how to make cakes and biscuits myself and it is as if a door to something brighter has opened for me."